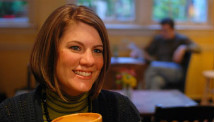 Opinion by Rachel Held Evans, special to CNN 
(CNN)– Dave Ramsey is rich. And he makes his living telling other evangelical Christians how they can get rich, too.
Host of a nationally syndicated radio program and author of multiple best-selling books, Ramsey targets evangelical Christians with what he calls a "biblical" approach to financial planning, one that focuses primarily on the elimination of consumer debt. His for-profit Financial Peace University is billed as "a biblically based curriculum that teaches people how to handle money God's ways."
Much of what Ramsey teaches is sound, helpful advice, particularly for middle-class Americans struggling with mounting credit card bills. I have celebrated with friends as they've marked their first day of debt-free living, thanks in part to Dave Ramsey's teachings and all those white envelopes of cash he urges his students to use instead of credit cards.
But while Ramsey may be a fine source of information on how to eliminate debt, his views on poverty are neither informed nor biblical.