Opinion by Kerry Egan, special to CNN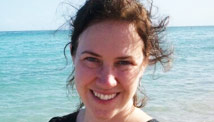 (CNN)– I got pulled over on my way to work recently. I was late and I was speeding, but when the officer saw the hospice ID around my neck, with the word "chaplain" all in capital letters, she gave me just a warning.
"You're an angel," she said. "Anybody who takes care of the dying must be an angel."
Because I'm a hospice chaplain, I hear that pretty frequently. I can guarantee you I'm not an angel. I'm a flawed and struggling human, and I deserved that ticket. I also don't take care of the dying, not really.
Because I have many patients, I usually only get to visit each patient twice a month, maybe once a week. In rare cases, I'll visit daily, but only for an hour or so. It's the dying person's family that truly takes care of him or her.
While hospice aides, nurses, social workers, and chaplains go into the homes of patients to offer support, education, and help, they cannot be there 24 hours a day, and they don't do the bulk of the caregiving.