Opinion by the Rev. Thomas Rosica, special to CNN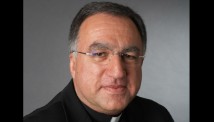 (CNN) Christmas was a moveable feast for me this year - in fact it happened right smack in the middle of Lent, when the cardinals of the Roman Catholic Church elected a man from Argentina to be the next Pope.
I have been asking myself a ton of questions over the past months.
What has happened in the church, and how can it be that a 77-year-old, retirement-bound archbishop from Buenos Aires has captivated the world?
How can we describe the sense of springtime that has come upon the church? How is it fathomable in our day and age that not only Christians and Catholics but millions of others are speaking about "Papa Francesco" as if he were their own?
Is this all the work of a PR company or clever media strategists hired by the Vatican to rebrand its image? Or is there something else at work? Let me tell you what I think is afoot.