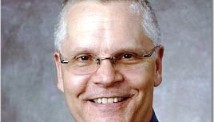 Opinion by Greg Kandra, special to CNN
(CNN) - When the news broke the other day that Philip Seymour Hoffman would receive a Catholic funeral on Friday, a few people on social media expressed surprise.
One commenter on my Facebook page questioned whether it was appropriate for the church to provide a high-profile Catholic funeral to someone whom she described as "a public sinner."
As  you probably know, Hoffman, one of this generation's most celebrated actors, died last weekend of an apparent heroin overdose.
The Facebook critic recanted her comment when I explained that the funeral will not be high-profile. Instead, the Hoffman family is holding a private ceremony Friday at St. Ignatius Loyola Church in New York.
Although Hoffman was nominated for Oscars twice for playing religious figures - a Catholic priest in "Doubt" in 2009, a cult leader in "The Master" in 2012 - his own faith wasn't widely known.
Hoffman was baptized Catholic, said the Rev. James Martin, a Catholic priest and prolific author who met the late actor while consulting for an off-Broadway play, "The Last Days of Judas Iscariot."
Martin, who also advised Hoffman on the intricacies of life as a Catholic priest for his role in "Doubt," will officiate the late actor's funeral on Friday.
"Phil Hoffman was not only a baptized Catholic but also a person with a lovely soul, and so deserves a Catholic funeral," Martin said. "And Pope Francis reminds that the sacraments aren't for perfect people; they are for the rest of us."
Martin's book, "A Jesuit Off-Broadway," fills in the picture of Hoffman's faith.
As a boy growing up near Rochester, New York, Hoffman attended Sunday classes in preparation for confirmation in the Catholic Church, though his parents were not especially religious, according to Martin. The budding actor considered Masses more a chore than a blessing.
"Those Masses really turned me off," Hoffman told Martin. "Lots of rote repetition, pretty boring and sometimes really brutal."
It's unclear how religiously observant Hoffman was later in life; certainly, some of the details of his private life — and tragic death — are the kind of thing you'd read in the tabloids, not your parish bulletin.
Ultimately, though, it boils down to this: Philip Seymour Hoffman was a Catholic, a member of the Body of Christ. By virtue of his baptism, he has the right to a Catholic funeral.
Yes, the Catholic Code of Canon Law says there are "manifest sinners" who "cannot be granted ecclesiastical funerals without public scandal of the faithful." But it's rare for a Catholic bishop or priest to deny a funeral Mass to even people who have publicly disagreed with church teachings.
For instance, Cardinal Sean O'Malley backed the decision to allow the late Sen. Ted Kennedy to have a church funeral in 2009, despite the politician's well-known support for abortion rights.
"We will not change hearts by turning away from people in their time of need and when they are experiencing grief and loss,'' O'Malley wrote on his blog at the time.
On the other hand, in 2002, the bishop of Brooklyn denied a full Catholic funeral to mobster John Gotti, but permitted the family to hold a private memorial Mass.
More recently, the Diocese of Rome last year instructed the estate of a Nazi war criminal to hold a "small private" funeral at his home, rather than at a Catholic church.
MORE ON CNN: Catholic sect holds funeral rites for Nazi war criminal
Phillip Seymour Hoffman wasn't a murderer or a mobster. He was, like most of us, a mass of contradictions. He was a stunningly talented actor with an everyman's physique. He was a loving father with a selfish addiction. He was a sinner, but also a son of God.
It's impossible to know for certain Philip Seymour Hoffman's relationship to God, to Christ, to the Catholic Church. These are things he carried in his own heart.
Likewise, we can't know the state of his soul in the final moment of his life. But all of us in the church pray for our brother Philip, as we do for all who die.
All this discussion of funerals illustrates something fundamental to Catholic theology, which is rooted, among so many other things, in mercy. We pray for it constantly, for ourselves and all who are struggling to live a life of faith.
I like the way it's phrased in one of the final prayers of the funeral Mass:
Merciful Lord, turn toward us and listen to our prayers: open the gates of paradise to your servant and help us who remain to comfort one another with assurances of faith, until we all meet in Christ and are with you and with our brother for ever.
Greg Kandra is a Roman Catholic deacon in the Archdiocese of Brooklyn, New York. A veteran broadcast journalist, he blogs at The Deacon's Bench. The views expressed in this column belong to Kandra.