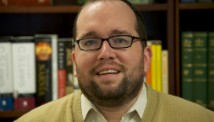 Opinion by Daniel Darling, special to CNN
[twitter-follow screen_name='DanDarling']
(CNN) - Perhaps you've heard that there is trouble brewing among evangelicals.
Younger Christians are weary of pitched cultural battles and are longing for the "real Jesus" – a Jesus who talks more about washing feet and feeding the poor than flashpoint issues like same-sex marriage and the sanctity of life.
If key evangelical influencers don't listen, we are told, they are about to lose the entire millennial generation. Or, maybe that generation is already gone.
This story has been told with testimonials, chronicled in best-selling books and posted on popular blogs.
Here's the short version: If only orthodox evangelical leaders would give up their antiquated beliefs, get more in step with the real Jesus, the church and the world would be better off.