Opinion by Joshua Rood, special to CNN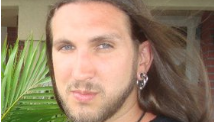 (CNN) - The word "heathen" is a very old one that once meant "heath dweller" or a person who lives out in the wild.
Eventually, when Christianity came into Northern Europe, it came to mean "one who still worships the old gods." It still means that in some parts of the world, like Iceland, where it also goes by the name Ásatrú ("belief in the Aesir").
Aesir is just a very old word for the traditional gods of Scandinavia. You've probably heard of some of these gods: Odin, Thor, Freyr and Freyja.
What you might not know is that many traditions, stories and celebrations have never gone away.
These can be as simple as the Scandinavian belief in vaettir (nature spirits) or as complex as the poems and songs about the Aesi that were written and are still sung and performed in Iceland.
Most of the stories were preserved in Icelandic poems and sagas, written in the 13th and 14th centuries. Others have been preserved in regional folk stories and folk customs.
Today, Ásatrú, which can go by many names, is the largest non-Christian religion in Iceland and is officially recognized in Norway, Sweden and Denmark. Thanks to multiculturalism, it exists in many countries around the world, including the United States, Canada and most European countries.
There are many organizations, private groups and individuals who adhere to Ásatrú. Although terminology, festivals and customs can vary depending on local lore and tradition, at its heart, Ásatrú is a celebration of the gods, stories and customs that have been passed down from Northern Europe into the modern world.
Unfortunately, there are people in this world who try to use these beautiful stories and traditions for selfish and hateful reasons.
All religions have been used by people to justify what they know is wrong. All myths are subject to bastardization. We've seen this throughout history.
Ásatrú is no more immune to it than any other religion. Myths and symbols can't defend themselves. In the case of Ásatrú and the gods and symbols of Northern Europe, they have been latched onto and used by individuals and movements trying to push racialist, nationalist and violent agendas.
It must be understood that these movements didn't evolve out of Ásatrú. They evolved out of racial or white power movements that latched onto Ásatrú, because a religion that came from Northern Europe is a more useful tool to a "white nationalist" than one that originated elsewhere.
The accused Kansas killer's neo-pagan religion
But that is not what Ásatrú is, and the religious communities whose beliefs and symbols are being hijacked are trying to make their voices be heard by society.
It must be known that Ásatrú has nothing to do with being some sort of separatist "warrior."
It's not the religion of the Vikings any more than Christianity is the religion of the Crusaders. It´s not the religion of white nationalists any more than Christianity is the religion of the KKK.
Ásatrú is the history of all of Northern Europe. Farmers, traders, fishermen, you name it.
The Vikings are sensationalized and romanticized by pop culture, as well as agenda driving individuals and movements. We may agree that Christ would never have condoned the Crusades or the KKK. Likewise, the Ásatrú god Freyr is a god of peace and prosperity who would never condone killing.
The Ásatrú fellowship of Iceland is the largest and oldest Ásatrú organization and is open to anybody and everybody who lives in Iceland. If you were to ask a random person on the streets of Reykjavík what Ásatrú is, regardless of their religion, they will probably tell you some variation of "It's the traditional religion of Iceland."
They would not think of a connection with racism or violence, because the connection does not exist. Likewise in the United States, where it is admittedly difficult to represent Heathenism due to federal laws regarding religious organizations, Heathen communities are very multicultural, made up of people with a variety of ethnic backgrounds.
There are groups and individuals who are trying to use Heathen symbols to promote hateful agendas, and they are active, publishing material and trying to recruit.
It means they go to events, they try to contact the general Ásatrú communities, and they try to pass their agendas off as being a part of Ásatrú.
This leaves us with the challenge of showing the general public that while there are people bastardizing our symbols, there are more of us openly opposed to it. The media and general public can assist with that.
It is my hope that this article can help with the process of making this distinction be publicly known and acknowledged.
If we can achieve this, then it helps society as a whole to counteract the white power and other extremist movements, because it will become more clear to them that they are not welcome anywhere in society, including the Ásatrú religion.
Joshua Rood is studying for a master's of arts degree in Old Norse religion at the University of Iceland. He is a member of Ásatrúarfélagið (the Asatru fellowship) of Iceland and founder of Heathen journal http://www.odroerirjournal.com. The views expressed in this column belong to Rood.