Opinion by Drew Dyck, special to CNN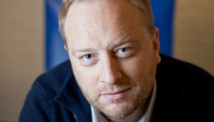 (CNN) - The 4-year-old boy sees angels floating toward him. They start out as stars, then slowly become more visible, wings flapping behind orbs of white light.
As they approach, they sing a melodious song. The boy cocks his head, squints into the sky, and makes a strange request. "Can you sing 'We Will Rock You'?"
The angels giggle.
So do people in the theater.
The scene is from "Heaven is for Real," the latest in a string of religious movies soaring at the box office. Based on the best-selling book of the same name, the film tells the real-life story of Colton Burpo, a 4-year-old boy who awakens from surgery with eye-popping tales of the great beyond. The film took in an estimated $21.5 million in opening on Easter weekend.
Even Colton's religious parents (his dad, Todd, is a pastor) struggle to accept the celestial encounters their son describes: seeing Jesus and his rainbow-colored horse, meeting his sister who died in utero, and talking to his deceased great-grandfather, "Pop," who, Colton exclaims, has "huge wings."
The book and film are part of a larger trend. Depictions of journeys to heaven have never been more numerous or more popular. There's "90 Minutes in Heaven," "To Heaven and Back," "Proof of Heaven," and "The Boy Who Came Back From Heaven," just to name a few.
Does God have a prayer in Hollywood?
So what should we make of such accounts? And what does their popularity say about us?