Opinion by Drew Dyck, special to CNN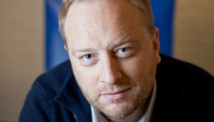 (CNN) - The 4-year-old boy sees angels floating toward him. They start out as stars, then slowly become more visible, wings flapping behind orbs of white light.
As they approach, they sing a melodious song. The boy cocks his head, squints into the sky, and makes a strange request. "Can you sing 'We Will Rock You'?"
The angels giggle.
So do people in the theater.
The scene is from "Heaven is for Real," the latest in a string of religious movies soaring at the box office. Based on the best-selling book of the same name, the film tells the real-life story of Colton Burpo, a 4-year-old boy who awakens from surgery with eye-popping tales of the great beyond. The film took in an estimated $21.5 million in opening on Easter weekend.
Even Colton's religious parents (his dad, Todd, is a pastor) struggle to accept the celestial encounters their son describes: seeing Jesus and his rainbow-colored horse, meeting his sister who died in utero, and talking to his deceased great-grandfather, "Pop," who, Colton exclaims, has "huge wings."
The book and film are part of a larger trend. Depictions of journeys to heaven have never been more numerous or more popular. There's "90 Minutes in Heaven," "To Heaven and Back," "Proof of Heaven," and "The Boy Who Came Back From Heaven," just to name a few.
Does God have a prayer in Hollywood?
So what should we make of such accounts? And what does their popularity say about us?
Some may be surprised that the Bible contains not one story of a person going to heaven and coming back. In fact Jesus' own words seem to preclude the possibility: "No one has ever gone into heaven except the one who came from heaven - the Son of Man" (John 3:13).
Scripture does contain several visions of heaven or encounters with celestial beings, but they're a far cry from the feel-good fare of the to-heaven-and-back genre.
In Scripture, when mortals catch a premature glimpse of God's glory, they react in remarkably similar ways. They tremble. They cower. They go mute. The ones who can manage speech express despair (or "woe" to use the King James English) and become convinced they are about to die. Fainters abound.
Take the prophet Daniel, for instance. He could stare down lions, but when the heavens opened before him, he swooned. Ezekiel, too, was overwhelmed by his vision of God. After witnessing Yahweh's throne chariot fly into the air with the sound of a jet engine, he fell face-first to the ground.
Perhaps the most harrowing vision belongs to Isaiah. He sees the Almighty "high and exalted," surrounded by angels who use their wings to shield their faces and feet from the glory of God. Faced with this awesome spectacle, Isaiah loses it. "Woe to me!" he cries, "I am ruined!" (Isaiah 6:5)
New Testament figures fare no better.
John's famous revelations of heaven left him lying on the ground "as though dead" (Revelation 1:17). The disciples dropped when they saw Jesus transfigured. Even the intrepid Saul marching to Damascus collapsed before the open heavens - and walked away blind.
How different from our popular depictions. And it isn't just "Heaven is for Real." In most movies angels are warm, approachable - teddy bears with wings. God is Morgan Freeman or some other avuncular presence.
Scripture, however, knows nothing of such portrayals. Heavenly encounters are terrifying, leaving even the most stout and spiritual vibrating with fear - or lying facedown, unconscious.
Yes, the Bible teaches that heaven is a place of ultimate comfort, with "no more death or mourning or crying or pain" (Revelation 21:4).
But it is also a place where the reality of God's unbridled majesty reigns supreme - and that's scary.
Did a 4-year-old boy from Nebraska really visit heaven? I don't know. My hunch is that the popularity of such stories tells us more about our view of God than the place in which he dwells.
Ultimately I believe we flock to gauzy, feel-good depictions of heaven and tiptoe around the biblical passages mentioned above because we've lost sight of God's holiness.
I fear we've sentimentalized heaven and by extension its primary occupant. I worry the modern understanding of God owes more to Colton Burpo than the prophet Isaiah. And I think this one-sided portrayal diminishes our experience of God.
We can't truly appreciate God's grace until we glimpse his greatness. We won't be lifted by his love until we're humbled by his holiness.
The affection of a cosmic buddy is one thing. But the love of the Lord of heaven and earth, the one who Isaiah says "dwells in unapproachable light," means something else entirely.
Of course it means nothing if you think it's all hokum. If for you the material reality is all the reality there is, any talk of God is white noise. But if you're like me, and you think heaven is for real, well, it makes all the difference in the world.
Drew Dyck is managing editor of Leadership Journal and author of "Yawning at Tigers: You Can't Tame God, So Stop Trying." The views expressed in this column belong to Dyck.