Watch Laura Sobiech talk about faith, family and life after her son's death with CNN's Bill Weir at 9 p.m. ET on Friday.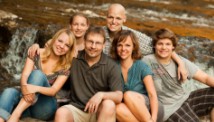 Opinion by Laura Sobiech, special to CNN
(CNN) - The nurse told us the doctor wanted to speak with us immediately.
The phone rang and my husband picked it up. I pressed my ear against the handle, trying to hear as Rob listened.
"… tumor … it's bad … hard year ahead," was all I could hear the doctor say.
It was enough to know life had changed forever.
Zach, my 14-year-old son watched intently from where he sat across the room; he knew something was up.
"What do I tell him?" I wondered as I walked to him, my legs going weak as my mind processed the news.
I wanted so badly to protect him, but I couldn't protect him from his own body. He needed the truth.
I sat in the chair next to him and said, "You have a tumor."
Zach held my gaze for a moment then turned his head and closed his eyes as he processed the news.
My heart was breaking. In that moment he looked so small and vulnerable - not like the tall, confident teenager who ran down a basketball court with ease, but like the little boy who once cried through stitches the doctor's office.
That little boy had quieted his crying, pinched his eyes shut and turned away from me when he realized I couldn't save him.