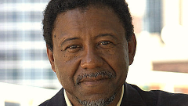 Opinion by Randal Maurice Jelks, special to CNN
(CNN) - Archbishop Desmond Tutu, the Nobel Peace Prize laureate from South Africa, called one of his books "God is Not a Christian."
He might have added a subtitle, "God is not a man, either!"
One of the great problems in our world is patriarchy. The late James Brown, the Godfather of Soul, put best in song, "It's a Man's, Man's, Man's World."
Patriarchy assumes that men are made to lead and women are simply cooperative and reproductive subordinates.
These assumptions come to light in all kinds of ways, but especially through religion — the various faiths that treat women as though they are not equal to men.
We read it in the Quran and the Bible. We see it in iconic imagery, and religious taboos about sexuality, particularly women's sexuality. And we see that around the world these days, from Salt Lake City to Sudan.
Men continue to dominate religious institutions, and use them to judge whether women can be in religious leadership or change faiths.
There is a direct link between Kate Kelly, a lifelong member of the Church of Jesus Christ Latter day-Saints, who was excommunicated on charges of apostasy, and Meriam Ibrahim, a Sudanese woman sentenced to death for her supposed apostasy.
And the link is deeper than the charge of abandoning one's faith.