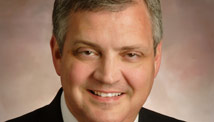 By R. Albert Mohler Jr., special to CNN
(CNN) - One year after the U.S. Supreme Court's decision on the Defense of Marriage Act, this much is clear: Justice Antonin Scalia is a prophet.
Back in 2003, when the court handed down the decision in Lawrence v. Texas, striking down all criminal statutes against homosexual acts, Scalia declared that the stage was set for the legalization of same-sex unions. That was 2003.
"Today's opinion dismantles the structure of constitutional law that has permitted a distinction to be made between heterosexual and homosexual unions, insofar as a formal recognition in marriage is concerned," wrote Scalia.
He was proved to be absolutely prophetic when, just ten years later, the court ruled in United States v. Windsor that the Defense of Marriage Act was unconstitutional — thus striking down the federal statute defining marriage exclusively as the union of a man and a woman.
Once again, Justice Anthony Kennedy wrote the majority opinion, while Scalia handed down a fiery dissent. As before, Scalia was prophetic.