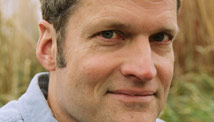 Editor's Note: Stephen Prothero, a Boston University religion scholar and author of "God is Not One: The Eight Rival Religions that Run the World," is a regular CNN Belief Blog contributor.
By Stephen Prothero, Special to CNN
I have been giving a lot of lectures recently — at institutions as different as Duke, Virginia Military Academy and the University of North Alabama — and I have settled into the routine. A bit about my book "Religious Literacy" (Americans are very religious, but know almost nothing about their own religions), a bit about my newest project, "God is Not One" (no, religions are not different paths up the same mountain) and some humor thrown in here and there.
My favorite part of any speaking engagement, however, is the Q& A, which gives me an opportunity to hear what is on the minds of college students, and allows me to freelance a bit — to think on my feet.