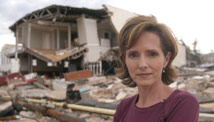 Editor's Note: Kathleen Koch is a Washington-based freelance journalist, author and speaker. Her new book, "Rising from Katrina," traces her Mississippi hometown's recovery from Hurricane Katrina and her experiences covering it. For 18 years, she was a CNN correspondent.
By Kathleen Koch, Special to CNN
Five years ago, when Hurricane Katrina was bearing down on New Orleans, I prayed. I prayed that the monster storm would veer east and spare the 1.3 million residents of the city and its surrounding parishes. I knew I was praying the hurricane right into my hometown, Bay St. Louis, Mississippi.
Katrina's eye roared onshore at the state line and then churned east over Mississippi. The sustained 125-mph winds and 30-plus-foot storm surge shredded the house where I'd grown up, my neighborhood, the town and most of the eighty-mile-long Mississippi Gulf Coast.
FULL POST